Considering hardwood for your home? With today's options, there is a perfect choice that will complete your home's décor and make it uniquely your own.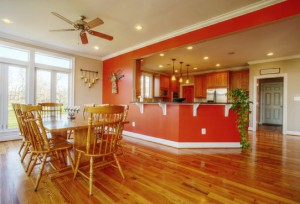 Wide Planks
Wide plank flooring is increasingly becoming a choice amongst consumers looking for something new. It has fewer seams because of its expanded width, which adds to the overall beauty of the floor. In comes in a variety of wood types, including a distressed wood option that will provide you with a rustic look and feel.
Reclaimed Wood
Are you looking for a green option – something recycled that will carry on its original beauty? Try reclaimed wood. Reclaimed wood comes from wood that is salvaged for the specific purpose of re-using, and brings an eco-friendly benefit as well as an old-world touch to any room in your home. Pine boards from old barns and farmhouses are a popular reclaimed flooring choice. Nail holes, worm holes, and other characteristics add to the uniqueness.
Ebonized Hardwood
Want to give your rooms a dark, sleek look? Try ebonizing your wood floors. The dark, opaque look complements many design styles and adds to any contemporary space. Darker woods such as oak, cherry and walnut are best for this unique style.
Eucalyptus
You've seen the latest craze in green flooring choices with bamboo – why not move to the next level with eucalyptus. Eucalyptus hardwood flooring is a fast growing, high availability option that makes it an eco-friendly and budget-friendly choice.
Hand Scraped
Instead of going with a traditional milled wood for your floor, try hand scraped instead. Hand scraped hardwood flooring is made from wood that has been worked by hand into individual flooring boards. Each plank will be wider in size, and have irregular scrapes, planes and textures. Because of its unique nature, no two boards will look the same, giving your overall room design a uniqueness all of its own.
For all of your Denver Hardwood Flooring needs visit our site today.