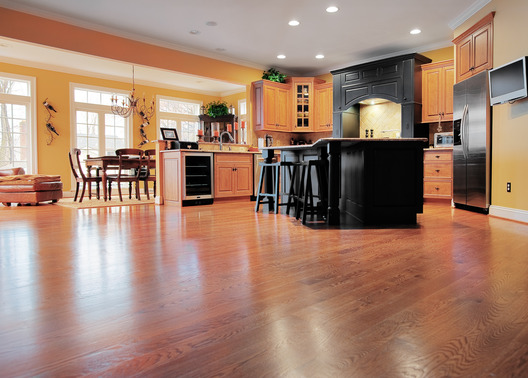 If you've decided that this is the year to redo the flooring throughout your home, wood flooring is probably one option you are weighing heavily. Wood flooring not only looks beautiful, it will also help maintain your resell value if you should decide to sell within the next few years.
If you've decided wood flooring is in your future, chances are you've discovered you have a wide array of options. While color and wood choices may seem difficult, you will also have to decide if you are going to lay solid wood flooring or go with an engineered wood flooring.
Make no mistake; engineered wood floors are still real wood floors. People often confuse engineered wood flooring with those products made to look like wood, which include laminate or vinyl. Yet engineered wood offers an array of benefits that solid wood can't.
Many consider engineered wood flooring to be a better choice in today's homes, especially if a home is susceptible to varying temperatures and humidity. Engineered wood looks just as beautiful as solid wood; the difference lies in the way it is produced and the durability with day to day life.
Engineered wood floors are made with a multi-ply plank construction process that allows for expansion without impacting looks or stability. Instead of a solid plank of wood, engineered wood is made from an inner core of softwood plywood or hardwood, or even high density fiberboard, with a top layer of veneer. The layers are bonded together under heat and pressure to form a strong cross section of wood. The stacking of layers is designed to allow movement and prevent traditional problems associated with hard woods, which include expansion, contraction, cupping or warping under a variety of normal environmental conditions.
The final difference is in the way it allows you to live day to day. Engineered wood flooring is more forgiving. From spills in the kitchen, to humidity in the bathroom, to mud and snow tracked in by the front and back doors, in Colorado's varying conditions, engineered wood flooring may be the perfect choice to give your home the look and feel you've been craving.
For all of your Denver Hardwood Flooring needs visit our site today.