Ah, the man cave. Every man dreams of having his own solitary place where he can watch games and engage in hobbies. Females are off limits. Which also means the influence of female décor and designing is not at the top of priorities either.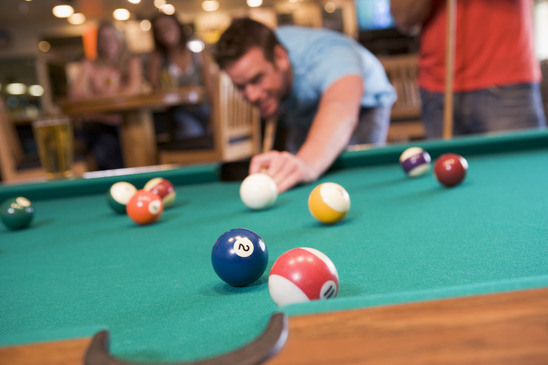 Do you want to feel like the king of your man cave that's designed according to your specifications? Well, the floor is a very important part of your man cave's design.
Your man cave should have a cool-looking floor that is easy to clean. After all, spills will inevitably happen with football games, ribs, and beer being around quite a lot!
Here are some ideal floors for man caves:
Carpet tiles
Better than standard carpet, carpet tiles are great for man cave flooring. They are easy to clean because if you stain a carpet tile, all you do is simply pull it up and lay another one down! Let's face it: no man wants to spend a lot of time cleaning the floor. Carpet tiles eliminate the need for expensive carpet cleaners and solutions. You can usually clean carpet tiles with a bleach and water solution. Carpet tiles come in all kinds of cool manly designs, such as checkered flag or your favorite sports team. There is even turf grass flooring available so your man cave can look like a football field!
Engineered hardwood flooring
Hardwood flooring that is authentic is a viable option for your man cave if it's in a basement. Engineered hardwood consists of multiple layers that are glued together. It's great for basements, and the floating floor application is best for installation because it involves an underlayment pad that provides protection against potential moisture coming from beneath.
Tiling
And of course one of the most durable flooring choices around is tiling. Tiling comes in all sizes, shaped, styles and colors. You can stick with the basics and put in a standard size light color tile that goes with just about anything. Or be a little more daring and try patterns or different colors. When you spill – its easy to clean up. And if you need warmth in the winter month its always easy to lay a few throw rugs around.
When you are designing your man cave, keep in mind that flooring is extremely important. There are cost-effective options that are easy to maintain and clean. Your flooring will go perfectly with your big-screen television, leather recliner, and pool table!
For all of your Denver Hardwood Flooring needs visit our site today.