Installing hardwood flooring in your home is a great way to add elegant beauty and additional value to your home. Hardwood floors provide aesthetic appeal and durability that is going to last for many years – provided, of course, that you properly maintain your flooring.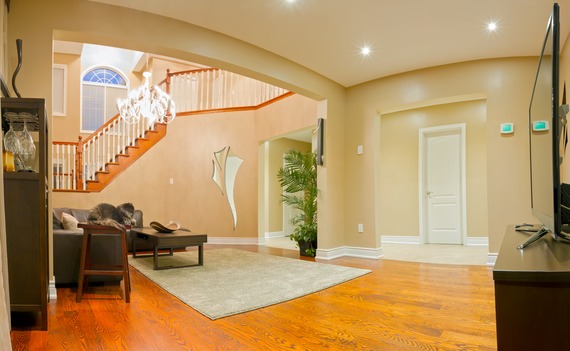 Hardwood floors require a certain level of maintenance, just like any other type of flooring, to ensure its longevity and everlasting beauty. Here are some tips to keep in mind to help you protect your hardwood flooring.
Protect your flooring from moisture. Moisture is one of the biggest dangers to hardwood floors. You must protect your flooring from flooding, spills, and humidity. All of these factors can lead to moisture damage, which can cause the planks of flooring to bow and buckle. Make sure you clean up any spills as soon as possible. Also, keep the humidity level in your home adjusted properly all year round.
When cleaning your hardwood floors, it is essential to remember that these floors must be protected from moisture. So, you should not slap a soaking-wet mop onto the floor. Instead, only damp mop your floor with a solution of water and vinegar. You can also buy various hardwood-cleaning products to clean your floor and maintain its shiny appearance.
Hardwood flooring must be protected from scratches to maintain its beauty. You can do this by using area rugs in high-traffic areas, as well as floor protectors under the legs of your large pieces of furniture, such as a couch. When moving furniture across the floor, you can use a blanket in a pinch underneath the furniture to protect your flooring.
Finally, take the time to know your flooring. If you feel any areas that seem to dip or rise in comparison to the rest of the floor, address the area immediately – it could be a sign of a bigger problem, such as a water leak.
For all of your Denver Hardwood Flooring needs visit our site today.