Candles are beautiful, but when the wax drips on your carpet, it can be very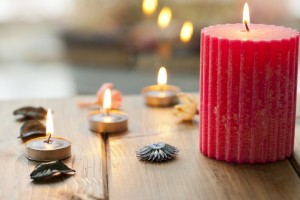 frustrating. There are several simple steps to take in order to remove the wax from your carpet, but it is important to act quickly. The faster you attempt to remove the wax, the easier it will come up.
Scrape
As soon as you realize that wax has spilled, use a butter knife to try to remove as much as possible. A simple scraping motion will remove any hardened wax. If there is wax that is not yet hardened, you can use an ice cube on it instead of the butter knife to cause the wax to harden. You can then resume scraping with the butter knife to remove as much as possible.
Vacuum and Iron
If you have many remnants of wax remaining, give the area a quick vacuuming. Then, place a clean white cloth on the stain and use an iron on low heat in a circular motion over the cloth. The heat will gently remove the stain, blotting it onto the cloth. The stain should be completely removed by this method. If it is not, you will have to tackle the stain with a cleaner.
Rubbing Alcohol
Typically, rubbing alcohol will remove the stain that is left behind by candle wax. Use a small amount, dabbed onto the carpet and blotted up with a soft, white cloth. Always avoid rubbing the stain, as this will make the stain permanent. If the stain remains stubborn, you can add weight to your stain removing efforts by placing books or hand weights over the cloth and leaving it overnight. In the morning, continue blotting at the stain until it is completely removed.
Once you have completely removed the stain, give the area a good vacuuming in order to restore the carpet fibers back to normal. It is important to remember that these steps should be taken as soon as possible in order to effectively remove your candle wax stain.
For all of your Denver Hardwood Flooring needs visit our site today.