Carpet padding is installed at the same time your carpet is laid, and acts as a shock absorber for your carpet. It can increase the overall lifetime of the carpet by reducing pile crushing and protecting the backing of your carpet from the subfloor. Installing carpet padding can also make it easier to clean your carpets, as it lifts your carpet off the subfloor, allowing more air flow as you vacuum. And it can also provide both heat and sound insulation throughout your home.
With all of those benefits, choosing a carpet padding shouldn't be as easy as selecting the least expensive one. But what is the difference? How should you choose?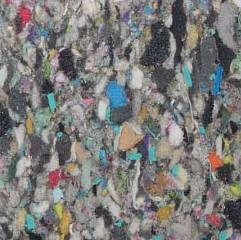 While your carpet retailer should be responsible for helping you select the best carpet padding for your home and your chosen carpet, there are a few things to keep in mind as you make your final selection.
Carpet padding comes in several different types with different densities and thicknesses. Just like the "free" padding that comes with installation may not be best, the thickest padding may not be the best either.
Typically there are three different types of carpet padding, polyurethane, rubber and fiber.
Polyurethane foam, also known as foam carpet padding, is the most commonly used and comes in three varieties: prime, bonded and froth. Each is available in different densities and thicknesses, offering a wide range of selection.
Prime polyurethane foam cushions are made using liquid ingredients that are combined to create sheets of foam padding. These sheets are easily sliced and laid on subflooring.
Bonded polyurethane foam padding is usually made of recycled foam combined together to create multi-colored, solid form. Because it uses recycled materials, it greatly reduces the amount of foam being sent to landfills, making it more eco-friendly.
Froth polyurethane foam carpet padding is made ty applying liquid ingredients directly to the backside of carpet. Its considered one of the best carpet cushions available.
Sponge rubber is made from natural or synthetic rubber, and is available in two main patterns, flat or waffle. Waffled is generally soft underfoot, giving it a luxurious feel, whereas flat is usually denser and has a firmer feel underfoot.
Fiber carpet padding is made of natural or synthetic fibers interlocked into sheets of felt, creating a padding that is firm underfoot. Fibers are either natural – wool and jute – or synthetic – nylon, polyester and acrylic. They can sometimes be made from recycled textile fibers, making them an eco-friendly choice as well.
For all of your Denver Hardwood Flooring needs visit our site today.