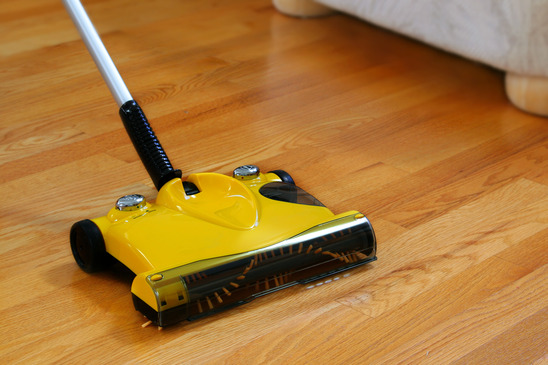 Hardwood floors are a beautiful addition to any home. They bring a certain level of style to the look and feel of each room.
When you make the decision to add hardwood floors to your home, you are making a sound investment – after all, these floors can increase the value of your home. As with any great investment, its important you take care of it along the way. Here are a few tips to help you keep your floors looking like new, so you can enjoy them for many years to come.
Never drag furniture or other items across your floors. Instead, place something between the floor and the item. For example, you can put felt contacts under your furniture legs to prevent scratches and gouges.
Pay attention to the cleaning products you use. Make sure they are specifically designed for hardwood floors. Regular cleaning products can damage your gorgeous floors. Also speak with the company that installed your flooring; they will have great advice for products to use to maintain its quality.
Never use water to mop your floors. Wiping up a spill with a damp cloth is fine, but avoid putting large amounts of water on the flooring. It can cause damage to the wood, such as warping.
Always avoid ammonia. Ammonia can dull the finish and performance of your flooring, and complicate the ability to re-coat your floor at a later date.
Instead of sweeping, vacuum instead. By using a bare floor attachment on your vacuum and vacuum your floors, you will ensure that all of the dirt and dust in the cracks is removed.
Pay attention to the feet that walk across your floors. Pet nails can cause scratches, so make sure your four-legged friends have trimmed nails. Avoid high heels and other hard-sole shoes. Even better, make it a rule that no shoes are allowed on your floor – wear slippers instead.
Direct sunlight can cause discoloration. Here in Colorado, sunlight can stream into your rooms many hours of the day. When you aren't at home,  use shades and blinds on your windows to avoid too much exposure to sunlight.
Area rugs are your friend when you have hardwood floors. Put these in high traffic areas to avoid damage, as well as in areas where spills might be frequent.
For all of your Denver Hardwood Flooring needs visit our site today.