Looking for something new for your kitchen?
Maybe you want to be a head of the curve and select a flooring option that you won't see in all of your friends' homes.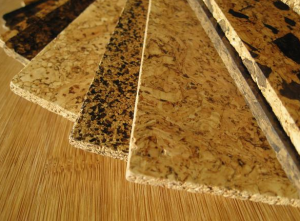 How about cork?
Cork flooring has many appealing factors that may make it the perfect choice for your home.
Cork flooring has a natural beauty that you will be hard-pressed to find in any other flooring. You can buy cork flooring in a variety of colors and styles – there is sure to be a pattern available that will enhance your home's beauty.
Cork flooring has a natural softness and shock absorption because of the air trapped inside the cellular structure of the flooring. This natural shock absorber makes cork flooring an ideal choice for kitchens, where you might stand on your feet for several hours at a time.
The air that provides cushion also acts as a noise reducer. Cork flooring is known for being a quiet floor. It reduces the sound of impacts and vibrations, such as footsteps and falling items.
Cork flooring has a natural anti-allergenic property. It naturally repels insects, mites and mold. It is naturally fire-resistant and when it does burn, it does not release any toxic gasses.
Cork flooring is very durable and easy to maintain. This makes it an ideal choice for both commercial and residential buildings.
When making the decision about flooring, remember that cork flooring, although it may cost a bit more initially, is a good choice. It can save you time and money in the long run because of its durability and easy maintenance and upkeep. With its natural shock absorbing and noise reducing properties, cork flooring can easily become one of your home's strongest assets – while still retaining its natural beauty and aesthetic appeal.
For all of your Denver Hardwood Flooring needs visit our site today.