Hardwood flooring is an elegant and durable option for almost any flooring project.  The graining creates a unique look for each board, while the finish provides protection and durability that will last for years.
Years ago, if you wanted the best quality and the greatest variety, you had to get a professional to install an unfinished hardwood floor.  But advances in the industry have made pre-finished hardwood floors a very reliable and comparable alternative.  So, which type of flooring is right for you?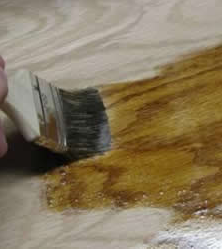 Convenience – If you are looking for a fast and easy installation, definitely go with the pre-finished flooring option.  Unfinished hardwood floors require sanding and finishing be done in your home after the product has been placed.  Drying and curing can last for weeks, and the dust generated from sanding can get everywhere.
Finished look – Unfinished hardwood floors must be finished on site.  This means anything in the environment could potentially interfere with the finishing process.  Dust, hair, etc. in the air can easily get stuck in the finish as it is drying.  Pre-finished flooring on the other hand, is finished in a matter of minutes using ultraviolet light and perfected application techniques.  As a result, the finished look is typically much smoother in pre-finished flooring.
Color – Pre-finished flooring has come a long way when it comes to color selection.  If you are looking for a rare color or finish, unfinished flooring is probably the best way to go.
Size – Any standard size board is now available in both pre-finished and unfinished flooring.  Again, as with color, if you are looking for an odd or oversized board, you will have greater luck with an unfinished flooring option.
A general rule for the typical hardwood floor installation: Pre-finished flooring provides a comparable quality and variety for a fraction of the inconvenience.
For all of your Denver Hardwood Flooring needs visit our site today.