Choosing the perfect flooring for you home can be a tough decision. There are so many different types of flooring available and each one has its advantages. Stone, laminate, hardwood, vinyl – the choices never seem to stop.
Even if you narrow your options down to one, you still have to choose the right pattern and style. It is enough to make your head spin.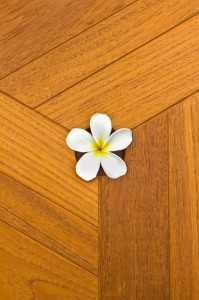 If you are trying to find the right flooring for your home, you may start out with a broad idea in mind. Hardwood flooring is a beautiful choice and will last for years. Once you've decided hardwood is the right choice for you, its time to look at your options.
Teak flooring is a beautiful, wood flooring that is available in a wide range of sophisticated colors. It ca range from a rich gold tone to a beautiful reddish brown, and of course many colors in between. Teak has a tight, even grain that gives a smooth, even appearance as it runs across your room.
This particular type of flooring is a very hard wood – meaning that teak is quite durable over time. This type of flooring also naturally resists decay – another durability factor that mustn't be overlooked. Because of its durability, it is a good choice for heavy traffic areas.

The biggest disadvantage to teak flooring is the price. While teak is an excellent investment in your home décor, offering increased resell value and the ability to last for generations as its positivies, it is one of the most expensive hardwoods on the market. Many homeowners are turning to laminate flooring instead as an alternative.
Teak laminate is more affordable than actual teak hardwoods and it provides similar beauty and durability. With laminate, only the top layer of the floor is teak – the other layers are made from other types of wood.
If price is not a factor in your flooring decision, consider teak for an elegant, durable floor that will last for years. If your budget is limited, consider teak laminate or other flooring options. Evaluate your flooring needs and choose the flooring that best fits within your budget while still being a sound investment.
For all of your Denver Hardwood Flooring needs visit our site today.