There is one thing about Coloradoans that's almost universally true … we love our great outdoors!
When the weather turns warm in March and April, the first thing we contemplate is how we can begin living outside instead of inside. We buy portable heaters for the cool night air. We install outdoor kitchens way beyond the grill grandpa used to use. And we even install walls and ceilings – anything to help us enjoy the outside a little longer in the spring and fall.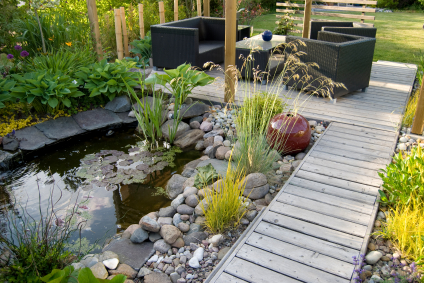 When you make your outside a part of your home design, why not extend the flooring outside as well? There are many things you can do to get rid of the boring old concrete that was poured when your house was built. Consider these options.
Porcelain tiles are the perfect choice for both indoor and outdoor locations. In fact, it's a perfect way to combine the look and move from one location to the next. Imagine your beautiful kitchen tile covering the breakfast nook and going right up to the large sliding door. Then look beyond and see the same tile extended into a covered patio, complete with outdoor kitchen and a fully functioning dining room area. Leave the doors open and voila – instant beauty for all of your dinner parties.
Porcelain tile is pressed under higher pressure than other tiles. Its more dense than ceramic tiles. Porcelain tiles are made from an extremely fine powdered clay that is pressed under heat – several hundreds degrees hotter than ceramic tiles. Which also means that porcelain tiles are much more durable than their ceramic counterparts – perfect for indoor and outdoor locations.
Because porcelain tiles come in a variety of styles, make sure you choose one that meets slip resistant requirements. Both kitchen and outdoor living areas may be exposed to water, making slip resistant surfaces vitally important. Slip resistant tiles have an invisible gritty surface that provides excellent traction when the tiles become wet.
Also verify that the tiles are frost proof and unglazed for floor use. In our harsh Colorado conditions, choosing a tile that will survive our occasional cold spells is vital to ensuring the look 365 days of the year.
Remember, there is a trade off to choosing tiles with a slip resistant surface. They will be slightly more maintenance and cleaning than other tiles, simply because the slip resistant features will also attract dust and dirt. But with regular attention, you can maintain a beautiful look – indoors and out – all year long.
For all of your Denver Hardwood Flooring needs visit our site today.