In today's most elegant homes, you'll likely find granite on the countertops and marble on the floors.
Marble can be the perfect choice for your formal rooms; yet like every flooring choice it comes with its own pros and cons.  Consider the following before making any installation decisions.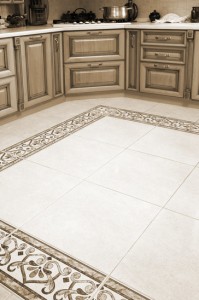 Beauty
Just like any natural stone flooring, marble adds incredible beauty and value to any home.  Because marble is natural, not manmade, each pattern is unique to itself. Marble comes in a variety of colors and styles, making it easy to find a pattern and color that will match any room.
Longevity
Marble is one of the hardest materials from the earth. This is a definite benefit for homeowners because no matter what is dropped on the floor, it is unlikely your flooring will be impacted. Caution should be taken, however, that anything that you do drop might shatter simply due to the hardness of the floor.
Stains
Marble is extremely porous, which means that it can easily stain. Anything that spills can instantly be absorbed into the floor, leaving a permanent stain. Care should be taken to clean up spills immediately.
Expense
Marble is one of the most expensive flooring choices on the market today. Not only can you expect to pay premium dollars for the flooring, its equally expensive for installation due to the nuances of the process. It is not recommended to perform the installation yourself, however, because it requires a special installation technique that should be left to the professionals.
Marble flooring is a gorgeous choice for many homes. It adds great value and beauty and as long as it is properly cared for, it can last for a very long time. Marble is gaining popularity throughout the United States, despite its high cost and likelihood to stain.
For all of your Denver Hardwood Flooring needs visit our site today.