Travertine tile flooring has gained popularity in recent years. This flooring, which is known as luxury flooring, is made from limestone, similar to that of marble. Because it is natural, just like marble, the style and variations greatly depend on the minerals that are in the materials that comprise the tile.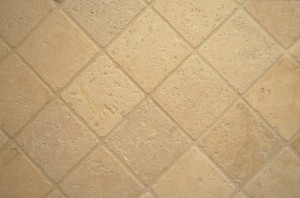 Location
Travertine is very porous, which means its more easily stained than other flooring choices. Thus it means it might not be a top choice for the kitchen where many items are spilled quite often. Or for rooms that have high traffic, such as entryways, because of its ability to scratch or dent easily. It is best kept in areas of low traffic and minimal usage, such as dining rooms and formal living rooms.
Finish
There are four different types of finishes that travertine flooring can possess. The polished finish is not typically recommended simply because of how slippery it can make the flooring. The most popular finish is the honed finish, because of its matte texture; it is not slippery and can be easily cleaned up.
Installation
Travertine flooring needs to be installed on a flat surface without any bumps or grooves. Travertine is considered a permanent flooring choice, so consider it carefully before final selection. Because it is a natural material, you won't find definite patterns in the tiles. Lay it out and finalize the way it looks before adhering it permanently.
Cleaning
Proper care and regular maintenance are mandatory with travertine. Any spills need to be cleaned up right away and daily vacuuming should also be a part of your routine in order to keep it in good condition. Mopping should take place once a week or less, in order to protect the finish, yet clean up any dirt and debris that remains.
For all of your Denver Hardwood Flooring needs visit our site today.