In some cases choosing a flooring isn't a matter of selecting the look you love best; it may also be wise to choose based on needs first.
The older we get, the more mobility becomes a factor in how we move and get through each day. Seniors have a frailer stature, weaker bone structures, and many potential ailments that can impact the way they move. Flooring can either add into the difficulty, or make the mobility process easier, depending on what is beneath our feet.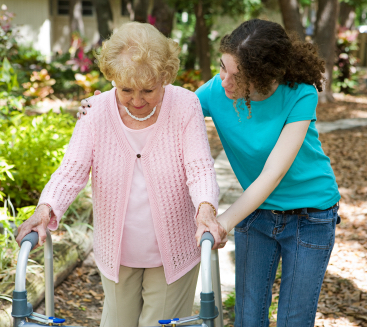 Want a few suggestions for finding the perfect flooring solution for the senior in your life? Give these a try
Carpeting
Carpeting provides a soft, comfortable surface that makes this a popular choice throughout a home. Its especially comforting in bedrooms, where warmth is a factor as you crawl in and out of bed. Its also more beneficial in the case of falls, often softening the blow. Keep in mind its not just the carpeting that makes this a top choice; its also the padding. A quality padding can not only create an even softer flooring, it can also add years to the life of the carpet. The downside of carpeting, however, is its vulnerability to spills and stains. Spills must be cleaned as soon as possible or risk turning into stains. Excessive liquid left standing can quickly turn into bigger problems, such as mold and mildew.
Vinyl
Today's vinyl flooring choices come in an array of styles and options. Love wood or tile? High quality vinyl can mimick the look. Vinyl flooring has a high durability and lifespan, and is a great choice when you want a low maintenance look. Keep in mind that certain types of vinyl will emit VOCs, which can impact the overall air quality of a room. If a senior has respiratory issues, such as asthma or breathing issues, you should be careful to work with a flooring contractor who can point you to vinyl options that don't present VOC issues, and have a more eco-friendly approach.
Cork
Cork flooring is increasing in popularity due to its sustainable features and its functionality as a flooring option. Cork's soft nature can be a big benefit for seniors that run the risk of falling. Its also comfortable to walk and stand on, especially for long periods of time. Treating the surface makes it more sustainable to spills, and eliminates the requirement for extensive cleaning when they occur.
Whatever your needs, whatever your requirements, there's a perfect solution waiting for your floors. Talk with a flooring consultant about your options today.
For all of your Denver Hardwood Flooring needs visit our site today.