Imagine hosting a party for your neighbors and friends and being able to say:
"My wood floors were once a part of an old homestead outside of town."
Or
"I've carried the wine theme in my cellar down to my floors; they were once a part of the inside of wine barrels."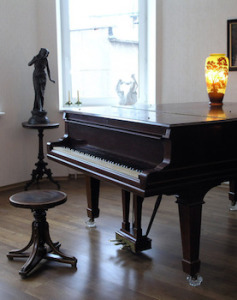 Not only can reclaimed wood flooring give new life to something that no longer has purpose; it can also give you a conversation piece right in your own home.
Reclaimed wood flooring is growing in popularity as a flooring option for many reasons. It can come for a variety of sources, including:
Fences
Old demolished buildings
Railroad cars
Wine barrels
Retired mills
If you travel back in time, trees hundreds of years old were hand crafted into beautiful boards, and were then used to create a lot of different structures used throughout our society. Our modern day forestry practices have set schedules for tree manufacturing, and therefore trees are harvested in a much quicker timeframe. As a result, the beauty and uniqueness you can find in reclaimed wood is like no other product on the market.
Using reclaimed wood has many advantages:
It keeps old wood out of the landfill
It prevents cutting down trees
It adds stability and durability to your flooring
It adds character to your home
It can provide a back story
It offers the option of using wider planks
It can be installed with radiant heating
And while the advantages are in abundance, keep in mind that there are a few disadvantages as well:
It can be expensive
It can come with false claims about the age and origin, so always go through a trusted dealer
It can come with metal pieces or nails, giving it a rough or marred appearance
It can have off-gassing from past chemical treatments
If reclaimed wood flooring sounds like the perfect option for your remodel, stop by today. Let's talk about your alternatives, and help you narrow down the perfect choice for you.
For all of your Denver Hardwood Flooring needs visit our site today.