Have a big New Years Eve party planned? Have company coming in for the holidays?
As you are making the mad dash around your home, fixing the little projects you've been meaning to do all year, one of the things you may notice when you look down is the condition of your flooring.
When did that stain become so noticeable?
All of a sudden you realize you are in desperate need for new flooring. The good news is that there's still time to have it installed … but you have to act now.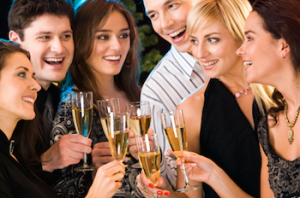 Typically November and December are the busiest times of the year for the flooring industry, because many people are thinking in the exact same way as you. Depending on the area you choose to install new flooring, and the type of flooring you select, it can take anywhere from a few hours to a few days for completion.
Its also important to think about the traffic that will weave its way through your home, and the final selection you make. Carpet can be installed quickly and provide you immediate results. Hardwoods may need time for laying in place, sanding, staining and sealing, which will be a lot longer process.
Also keep in mind that while some flooring will need professional installation, some can take on a DIY quality, giving you the option to have results whenever you choose. Tiling an entryway or laying laminate has never been easier with click technology.
For example, lets say you are looking for a hardwood floor in your formal dining room. A floating floor installation is easy and doesn't require a lot of tools to get the job done. It can save you in installation costs, and can give you the look and feel you want in no time.
And click technology is now available in all kinds of looks and styles: bamboo, cork, laminate, even vinyl flooring options give you the durability you are looking for.
To get started on choosing your dream floor, spend some time discovering what look you are trying to achieve. You can easily do this by looking at design magazines, or searching the Internet for home design concepts. With a few ideas in mind, visit and talk with one of our design consultants. Give them your time frames, your design ideas, and let them help you find the best solutions for you.
In some cases your product may need to be shipped, which may take a day or two. And with certain products, its best to acclimate them to your home before installation (another day or two).
Yet whether it's a few days or even a week or more, the final results will be worth waiting for. And make a big difference in your holiday plans.
For all of your Denver Hardwood Flooring needs visit our site today.