No matter what room you are redecorating, starting with a wood floor gives it style and pizzazz. Yet in some cases, the perfect choice for the flooring isn't wood at all.
With today's technology, you can get a wood look without installing wood flooring.
Think laminate
Think vinyl
Think tile
You can achieve a wood look with many different products on the market, all that will provide you with more flexibility, more durability, especially in rooms where you may need it most (like the bathroom for instance).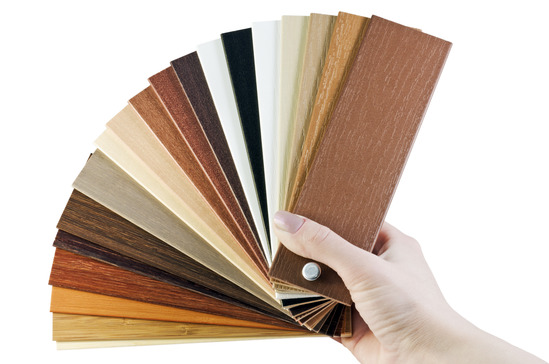 A client recently came in looking for new flooring. She had a rental unit, and wanted to upgrade the look without breaking the bank. The old dingy carpet had to go, and she wanted to give her place a fresh updated look. Her rental was in a college area, so most likely her tenant would be someone in their young 20s. Wood would be a definite benefit, and could even boost her monthly fee. She selected a laminate, and couldn't be happier with the results.
Laminates have the look and feel of real wood, but offer you the wood look on a budget. Laminates are made up of layers – a high resolution photo reproduction of wood on the top, two layers of core board to increase durability and moisture resistance, followed by a bottom layer of plastic that provides moisture protection from the sub-floor. All four layers are pressurized together to give you a functional flooring option. With its click together installation system, its easy to have installed, or the perfect choice for a DIYer wanting to take on the work themselves.
While laminate is a great option, its by no means the only option. Vinyl plank products offer a waterproof option that is great for places where water messes are likely – think kitchens and bathrooms. Vinyl comes in a wide variety of pricing structures, and likewise will offer many looks and feels. The more you put into it, the more luxurious it can become, the greater the impression of looking like real wood.
Tiling with a wood look is also an option. It comes in a variety of colors and styles – how about a weathered wood plank flooring look? Tiling is one of the most durable flooring products on the market, so if longevity is a bonus, tiling may be your answer.
If you are ready to install wood floors in your home, but aren't convinced real wood is the answer, come in and look at the many flooring products that will give you the look, and increase functionality and durability in the process.
For all of your Denver Hardwood Flooring needs visit our site today.