In today's economy, more people are deciding to stay in their current home rather than upgrade. Yet that doesn't mean you have to live with your home the way its been for the past few years.
One of the easiest ways to make a big change is to look underneath your feet – your flooring. Hardwood, vinyl, carpet, corkboard, laminate, bamboo, stone, and ceramic are some of the options – and each one of those has even more options of its kind.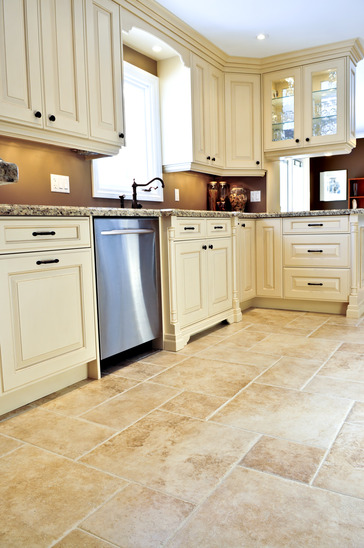 If you feel overwhelmed at the prospect of determining which flooring is right for your home, consider one of the most popular floor coverings – the ceramic tile. Ceramic tile has a slew of advantages that might make it the best choice for your home.
Easy to maintain – ceramic tile is resistant to stains and you can clean it with ease. Just sweep, vacuum and mop on a regular basis to maintain your tiles to perfection.
Durable – ceramic tiles are more durable than other types of flooring – they will last longer, so you will not have to replace them as soon as you would other flooring.
Slip, abrasion, moisture resistant – ceramic tiles are slip resistant, making them a safer surface. They are also resistant to moisture, unlike hardwood. Ceramic tiles are often used in high-traffic areas because they resist abrasions and tread wear.
Fire resistant – ceramic tiles are fire resistant and will not burn, nor will they release any toxic fumes from burning – because they do not burn.
Shock resistant – even if the temperature fluctuates, your tiles will not bend or break from the changes in temperatures.
Permanent color – you do not have to worry about the color of your tiles fading in the sunlight because it has no effect on the color – the color will look as vibrant on day 400 as on day one.
Hygiene – your ceramic tiles are easy to clean and maintain, making them a perfect choice for areas that require a higher level of cleanliness.
Resistant to chemicals – ceramic tiles are very resistant to chemicals, so you do not have to worry about what you can and cannot use to clean the tiles.
Warmth – one reason people in Colorado may not think about tiling is because of warmth. Tiling tends to be cool under your feet, something you definitely don't need in the winter. But with today's technology, you can install heaters under your tiling, giving you year round comfort in summer and winter.
For all of your Denver Hardwood Flooring needs visit our site today.