Want hardwood floors throughout your home? Have a dog?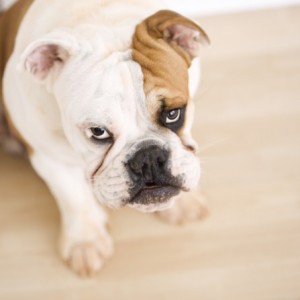 Yes, in many cases, people will tell you the two simply don't mix.
Yet if you are protesting, and still want your hardwoods throughout, is there another option? In many cases, the answer is yes –there are choices that will satisfy the hardwood desire with the dog lover inside.
The main issue with hardwoods and dogs are the claws. Whether Fido is running to the back door to check out the squirrels, or casually walking from room to room to be a part of the family, each step is a potential for scratches. You can lay out runners and rugs, but in the end Fido will step beyond these protectors. And when he does, your hardwood floors are at risk.
Scratches are the biggest problem, but in no way are the only. Have a puppy or an older dog with bladder issues? Urine can also spell big trouble for your hardwood floors. Then add in muddy paws, snow and wet paws, dirt, rocks and other debris, and the potential damage keeps rising.
When it comes time to shopping, don't head down the aisles looking at the options – you'll only get your heart set on something that may be the wrong choice. Instead, start by talking with a flooring consultant and tell her your family situation and your worries. Then follow her to the best choices for you. Some ideas to keep in mind as you head out to do your research include:
Focus in on hardwoods, not soft. Yes, even in the hardwood floor arena, different woods are available, each with their own level of softness. The harder the wood, the more scratches and claws won't impact. It.
Look for solid hardwood, not engineered wood. Engineered wood flooring is a sandwich of laminated wood with a real hardwood veneer on top. Because engineered wood can only be sanded and repaired a few times, you can quickly run out of opportunities for repair – meaning you'll be replacing on a much more frequent basis.
Look at all your options. You've had your heart set on hardwood floors, but when was the last time you looked at your options? With today's technology, you may surprised at what is available to you. Check out vinyl flooring, which can provide the look of wood in sheet, tile or plank form. Or look at tiles – there are some beautiful tiles on the market today that may provide you with a look you never considered before.
Still want hardwoods? Three choices you may choose to look at are:
Brazilian Walnut – its universally hard and dense, and is tough enough that it used occasionally on exterior decks.
Hard Maple – maple is used on basketball courts, so it should stand up to quite a bit of traffic within your home.
Bamboo – bamboo is an up and coming green alternative to wood flooring, and depending on the manufacturing process, can have a hard resin that will make it one of the hardest on the market.
For all of your Denver Hardwood Flooring needs visit our site today.