When considering hard wood flooring for your home or office, you will find yourself bombarded with choices. Wood flooring comes in a plethora of sizes, shapes, colors, designs, durability's, prices, etc. As you are working your way through the maze of decisions, one choice that will drastically impact your flooring experience is whether your choose pre-finished or unfinished wood flooring.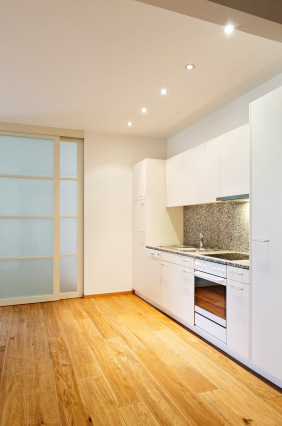 So, what is the difference between the two options? Are there times when one option is better than the other? How do you choose between pre-finished and unfinished flooring?
Pre-finished wood floors have several advantages. Pre-finished floors are treated (finished) in a factory before they are installed in your home. This makes them less labor intensive, which in turn reduces the overall price. Since the flooring is finished before it is laid, the installation crew will not need to sand and treat the flooring after installation. This drastically reduces the mess and inconvenience in your home.
Pre-finished floors are a good choice when cost is a factor. Pre-finished floors are also good for homes with pets or small children, since they cause less mess and dust. And they are an excellent option for high traffic areas, since the finish tends to be more durable.
Unfinished wood floors have several advantages of their own. Unfinished flooring is a better choice if you currently have wood flooring in your home that you want to match. The installation crew will be able to match the flooring type better than if you used a pre-finished option. Unfinished wood floors are also a good choice for multi-room flooring projects. This allows for a greater unity and uniform staining/color of the final product.
Pre-finished and unfinished wood floors each have their own advantages and disadvantages. Knowing ahead of time what you want and what these flooring options can offer will allow you to make the best choice possible for you and your home.
For all of your Denver Hardwood Flooring needs visit our site today.