When it comes to commercial property, everything about it takes a beating. Heavy traffic, lots of use, and very few people that enter ever look down and really think about what they are walking on.
Yet commercial flooring is probably one of the most important materials within a commercial property. It must withstand dozens, even hundreds of people walking on it every day. It must survive dirt, grime, snow, sleet and rain, high heels, muddy boots, and everything in between.
Flooring for commercial properties takes more than choosing a color or a style; it involves getting to know the specific application and what the area will be used for. A high traffic entryway has different needs than individual offices.
Installation
When choosing a floor option for the very first time, its easy to look at the price first and make choices on budget. But with high traffic areas, that can be a mistake. If you choose an inexpensive option today, how fast will it have to be replaced? Will it be damaged after just a few Colorado snow storms? Installation in itself can be expensive. Even by upgrading one or two levels, you may pay a little more up front, yet gain several years worth of use.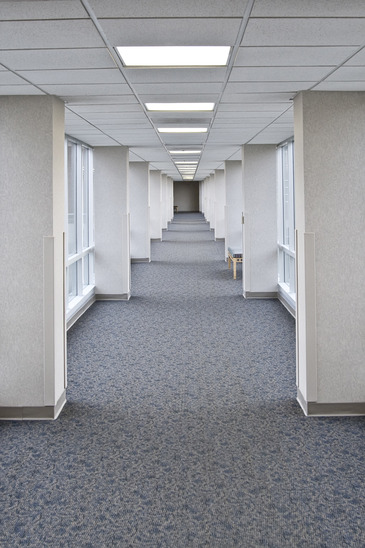 Maintenance
Every flooring choice has maintenance costs. Wood flooring needs regular cleaning, stripping, waxing and repair. Concrete may need to be stained, repaired and refurbished. Carpet may need regular vacuuming, steam cleaning, and repair.
For each surface area, consider what the best choice is, then choose the highest quality option to ensure years worth of function.
Durability
Flooring is one of the most used, highest abused aspects to a building. No matter what option you choose and how well you maintain it, eventually it will wear out and need to be replaced. The longer the life of the material, the more you can stretch the time in between.
Safety
The traction of the flooring choice is important, especially for high traffic areas, or places where changes can occur regularly. Bringing in snow and slush on a cold winter day can present tripping or slipping hazards, depending on the flooring choice. Polished floors may look nice, but when buffed and cleaned may cause people to fall easily. If a situation has a potential for becoming wet, make sure you use a material with extra traction, such as epoxy quartz.
Comfort
Hospitals and medical offices already have sterile atmospheres – the last thing you want is to add to the feeling with cold cement. A modern color, hard working commercial carpet choice can not only make a few warmer and more comfortable, it can also dampen noise.
For all of your Denver Hardwood Flooring needs visit our site today.