Commercial locations, such as office buildings, retail stores and warehouses,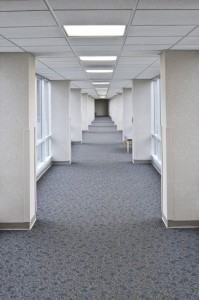 require flooring, just like any residential setting. An important thing to keep in mind is that the flooring you choose for a commercial setting must be able to withstand the environment.
Commercial flooring should be durable, easy to maintain, affordable, and attractive. The same holds true for residential flooring, but these factors are on a much larger scale in a commercial setting. The foot traffic of your commercial location is likely to be much higher than that within your personal home – so, you have to purchase your commercial flooring accordingly and keep the environment in mind.
Some of the most common choices for commercial include stone, laminate, vinyl, concrete, and carpet. Each type of flooring has pros and cons, so evaluate your flooring needs and choose the best flooring for your commercial setting.
Stone – Stone floors are often more expensive than other types of flooring. However, this type of flooring is known for its durability and longevity. While the  initial cost may be on the high side, stone flooring is made to last for a long time, saving you money in the future.
Laminate and/or vinyl – These two types of flooring come in a wide range of styles and prices. They are durable, easy to maintain and affordable. If cost is an important factor for you, laminate or vinyl may be the better choice.
Concrete – This type of flooring has often been used in warehouse settings. It is very durable and easy to maintain. Concrete is increasing in popularity because it can be stained or etched to create beautiful designs. This, like vinyl and laminate, is an affordable option for those on a limited budget.
Carpet – Carpet is best for places like hotels and office buildings. It can come in traditional wall to wall styles, or try carpet squares for easy install and easy replacement on an as needed basis. Carpet, while soft and supple beneath the feet, requires more maintenance than other types of flooring. Not only must it be vacuumed on a regular basis, it must also be shampooed to remove any stains.
For all of your Denver Hardwood Flooring needs visit our site today.