Vacuum, sweep, mop, sanitize, deep clean… our floors are constantly being used, so they constantly need a little bit of love from us.  But what happens when your floor needs a bit more love than you can handle?  When your floor needs expert attention, what exactly should you be prepared for from a flooring contractor?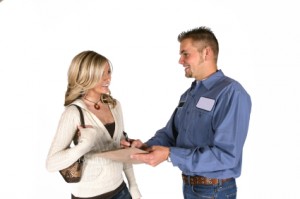 Know your needs – Before we can talk about what to expect from a flooring contractor, we need to figure out what type of flooring contractor you need.  As with every field, the field of flooring has different specialty areas.  For the best experience for you (and your floors) you need to figure out what type of contractor you need.  Is your floor in need of refurbishing or replacing?
Ask for credentials – Once you have determined what exactly you need, you may begin the process of looking for a flooring contractor.  Be sure to ask each potential contractor what there specialty is and what credentials they have.  You want someone who will do the job right the first time.
Get a quote – Most flooring contractors will give you an upfront estimate of how much the job will cost.  This can help you budget for your flooring project.  Be sure to get this estimate in writing.
Set a timeline – Your flooring contractor should be able to give you an estimate on how long the job will take.  You will also need to establish a start date.
Seek professionalism – Good contractors will do their best to leave your home better than when they came.  You can expect a good contractor to take care of general pick up (of job related messes) and haul away.
Get a guarantee – Ultimately, if you aren't happy, the contractor shouldn't be happy.  Good contractors will do what they can to guarantee a satisfied customer in the end.
For all of your Denver Hardwood Flooring needs visit our site today.