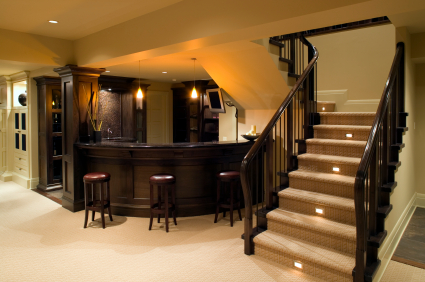 Basements can present a bit of a challenge or a source of untapped potential for homeowners.  In their natural state, basements are rather cold, damp, uninviting areas; acceptable for storage, but not preferred for living space.
If you decide to refinish your basement, one definite obstacle will be the flooring.  Plain pressboard or cold concrete will not do a very good job creating the warm and welcoming environment you probably had in mind.  But how do traditional flooring materials hold up to the basement test?
Hardwood: Hardwood flooring would be a very poor investment for basement flooring.  The moisture that is always present could quickly warp the boards, leading to an uneven, unattractive floor that would be expensive to replace.

Laminate: If you want the look of hardwood without the warping, you might want to consider laminate flooring.  The materials used to create this type of flooring are much more durable than natural hardwood floors.  With the proper padding, you can easily muffle the tell tale noises associated with laminate.
Carpeting: Under the right conditions, carpeting can do very well in basements.  The construction of carpet allows it to breath, releasing moisture emissions from the basement subfloor.  If the basement hasn't been properly sealed, the moisture levels could be to high, leading to mold and mildew growth.  However, if the proper actions have been taken, carpeting can give your basement a cozy, comfortable atmosphere.
If your remodeling budget doesn't have room for the more traditional flooring options, another option might still be available to you.  In homes where the concrete subfloor is still in good condition, owners could consider a process called concrete staining.  This takes your current concrete floor and stains it, for a more attractive finished look.  While not typically the best option for a basement remodel flooring, it is definitely preferable to the look of untreated concrete.
For all of your Denver Hardwood Flooring needs visit our site today.