Did you know over in Europe, laminate flooring is one of the most widely used and accepted materials? Yet here in the United States, its only recently found its way into our lives.
The more acceptance it has, the more options become available. And with laminate now fully accepted throughout the country, we are seeing options like never before. You'll find traditional, rustic and exotic. You'll find upscal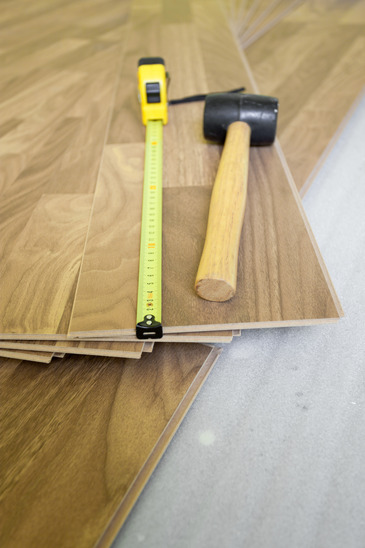 e look without the upscale price. What could be better than that?
What is laminate?
Laminate flooring is a composite that is designed to endure above average wear and tear. It is created in a direct pressure manufacturing process that turns four layers into one extremely hard surface.
Layer 1 – the wear layer. The wear layer is a tough, clear finish that is reinforced with aluminum oxide, one of the hardest mineral compounds known to man. It creates the stain resistant, fade resistant, moisture resistant layer that gives laminate its edge.
Layer 2 – the decorative layer. The decorative layer is actually a highly detailed photograph that gives the laminate its appearance.
Layer 3 – the fiberboard layer. Ultra dense core board provides laminate its stability and impact resistance.
Layer 4 – the back layer. The back is reinforced with melamine for structural stability and moisture resistance.
Once combined, the resulting floor boards are easy to care for and easy to install. The tongue and groove locking technology eliminates difficult placement and unsightly gaps at the seams. Once installed, there is no waiting for moving in furniture or for finishes to dry. Even care is easy; try wiping away nail polish, grease, or even mustard stains – all possible with laminate flooring.
Any way you slice it, the resulting floor is a floor that wears well, looks beautiful, and saves you money too.
For all of your Denver Hardwood Flooring needs visit our site today.