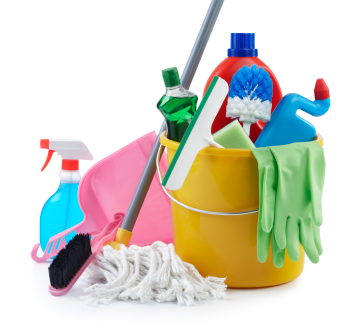 We live in a world where living "green" is becoming the norm. Protecting your environment is important. If everyone in the world makes an effort to live a green life, the planet will be a healthier place to live.
One of the ways you can help the environment is by cleaning your floors with natural cleaners. While you may be tempted to use chemicals for that "deep down" clean, you can achieve the same results with natural cleaners.
For wood floors, use a mixture of ¼ cup of mild dishwashing liquid and warm water. Avoid making your floor wet with the water – you want to damp mop your wood flooring and then dry it with a towel. A bit of baking soda and a sponge can help remove any scuffmarks. For wood floors with a penetrating finish, avoid water at all times. Instead, use a natural citrus solvent and a dry mop.
For laminate flooring, use a vacuum followed by a damp mop. Wipe up spills immediately. Avoid any soap-based cleaners on laminate flooring because they can leave your floor cloudy. Avoid abrasive cleaners that can scratch the flooring.
For vinyl, linoleum and cork floors, vacuum and dry mop your floors on a regular basis. When they need mopping, you can use mild dishwashing liquid and hot water. You can also use ½ cup of vinegar in rinse water to make your floor shine.
Ceramic floors should be swept and dry mopped. When necessary, you can use a barely-damp mop. Use a mild detergent on ceramic floors when needed. Make sure you dry your floors with a towel after any mopping. Avoid abrasive cleaners on ceramic floors because they can scratch the glazing.
By putting forth a bit of effort into the regular upkeep of your floors, you can keep your flooring clean with natural cleaners instead of harsh chemicals.
For all of your Denver Hardwood Flooring needs visit our site today.