If you are in the process of either building or renovating your commercial space, your first thought should start at the ground level … your flooring that is. What flooring you use will be the difference between a successful workspace or a mistake that becomes costly over a short period of time.
In many cases, the first consideration for commercial flooring comes from the pocketbook. A budget is established and the cheapest price is chosen to stay within the budget, or even potentially save money as well.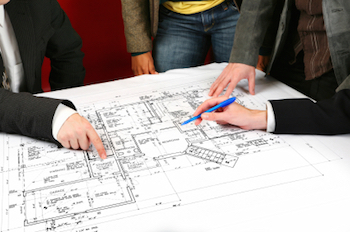 While the initial cost of flooring may be the one thing that sticks out in the initial stages of the process, you should also consider potential costs down the road as well. By installing a higher quality, more expensive option now, you may be able to go many years longer without having to replace. Floor replacement disrupts workflow, and can have an enormous impact on productivity. It can also increase your costs, especially if problems arise with underlayment materials.
If its time to replace your commercial flooring, where do you begin?
Start with your space and understanding your needs. How much traffic will your floor bear? What type of work will take place in the room? Is sound control important? Is worker comfort a consideration? Are there unique challenges, like exposure to harsh chemicals?
Then once you've looked at what takes place in the environment, move to regular maintenance requirements. How often will the flooring be cleaned and maintained? Is it internally handled or do you hire outside contractors? How much time can you dedicate to maintenance each week? A simple sweep or vacuum is different than having to clean and polish on a regular basis. It also requires different level of custodian work, and may require different levels of equipment to be purchased as well.
No matter what type of flooring you consider, you'll also have to consider the foundation. Flooring may be what gives your space its style, personality and workability, but it's the underlayment that will give it its strength and durability. This is especially important in medical or health facilities where contamination from spills can occur. Even in a regular office space, if you choose the wrong underlayment, it can harbor bacteria and give you anything but a safe workspace.
In today's world, the sky is the limit when making your final choice. While commercial locations once made their final selection from carpet, wood, concrete or tile, today there are many more options that can help you create a unique space. Epoxy, rubber flooring and polymer coatings all can give you a unique look. Eco friendly options are more available than ever before. Carpeting isn't the old, dingy color combinations from before. In fact, if you have anything special in mind, there are possibilities to consider to make them a reality.
If you are looking to replace your commercial flooring, give us a call or stop by and be amazed at your options.
For all of your Denver Hardwood Flooring needs visit our site today.