"I love the staircase in my home. In fact, it's the reason I bought my home. When you walk in, it's the main focus of the entryway, and I love the woodworking and the way it flows up to the second level. Now I'm remodeling a bit, and I'm wondering what to do. . I have wood downstairs and carpet up. Currently the stairs are carpeted, but I'm wondering if I should install wood to carry the theme from the lower level. Is there a standard for stairs? What's the best choice?"
Great question. Transitions are one of the most difficult decisions to make as you are moving from one area of your home to the next. And when it comes to stairs, there is more than looks to consider. The National Safety Council indicated that falls are one of the leading reasons people wind up in the emergency room each year, and if stairs aren't kept in top shape, they can easily be one of the most dangerous parts of your home.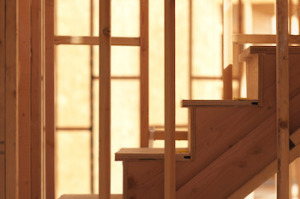 While there are many options that will look great and provide you with both style and safety in the process, it really comes down to a personal choice, what's good for your lifestyle, and what matches your home's existing décor.
Tile and Stone
Tile or stone are two of the best flooring options for stairs when you are looking for durability and low maintenance. With thousands of colors, styles, shapes and sizes available, the design options are endless. But keep in mind that tile is hard and unforgiving. They can be cold and noisy, and can cause injury easily in the event of a fall. You may want to think twice about installing tile if you have young kids or elderly people living at home. Make sure to invest in tiles that are slip resistant, and choose a rough surface over a smooth glazed finish.
Wood
Wood planks provide the look of luxury with durability that can last for years. To add even more style to your home, consider using hardwood treads with a contrasting colored riser. Because wood comes in many colors and styles, its easy to create a safe environment while getting the perfect look in the process. If safety is a concern, you can attach safety strips designed for use on individual treads.
Carpeting
Carpeting offers a soft, quiet, comfortable feel to your staircase, while creating a warmth that cannot be matched by any other material. Its also one of the best safety stairway flooring options on the market. While carpeting won't have a lifespan parallel to wood or tile, it can vary greatly depending on the fiber.
Combinations
Instead of settling in on one option for your staircase, why not look at several? How about solid wood treads with stone or ceramic tile risers? Or wood treads with carpet runners down the flow of the staircase?
Costs related to each flooring type vary greatly depending on final selections. Before you make your final decision, stop by and see your options first. There may be a perfect solution to help you get the most out of the look you've grown to love.
For all of your Denver Hardwood Flooring needs visit our site today.