Nothing adds warmth and style more than an area rug. These versatile pieces can add a pop of color anywhere, and create a pleasing visual point of interest that adds to the overall impact of your room. But how do you find the right area rug for your home?
Rug Size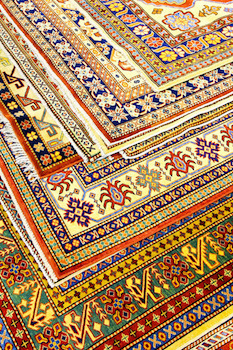 The wrong size is often worse than no area rug at all. Finding one that fits the space will further define the look you are trying to create, and protect the flooring underneath as well. There are several rules of thumb:
The edges of the rug should be no more than 2 feet away from the walls
The edges should be no closer than 6 inches away from the walls
The rug should be at least 2 feet shorter than the smallest wall in the room
While you can find many rules of thumb when it comes to rugs, remember you should ultimately make sure it pleases you and the room you are decorating. A room designed as an office will have different requirements from a room designed as a dining room. With different needs come a different requirement in purpose, and ultimately a different requirement in sizing. When in doubt, ask a flooring consultant for guidance.
Rug Pile
Area rugs typically come either in high pile or low pile fibers. Shag would be considered high pile; low pile rugs have shorter, more tightly woven threads. Therefore low pile area rugs will be more resilient and durable than their high pile counterparts. If you have a room with high traffic, or where pets and children will frequently be, a low pile rug will be your better choice. Area rugs can be treated with stain resistors, which may be especially important in dining rooms where frequent spills are almost a given.
Color, Pattern and Style of Area Rug
If you've had a chance to look at area rugs, you know you can find any color, pattern or style you want. Your imagination can run wild when using an area rug to help pull the focal point together in your final décor.
This is where you can have some fun. It can also be the most confusing part of the process. To learn more, stop by and get some design tips from one of our consultants as you begin your process. Area rugs can blend in and provide comfort, or they can make a bold statement and stand out. You can use it to add color, or stick with a neutral shade to blend in.
There isn't a wrong or right way to design with an area rug; have fun and see how your room can change with your final selection.
For all of your Denver Hardwood Flooring needs visit our site today.