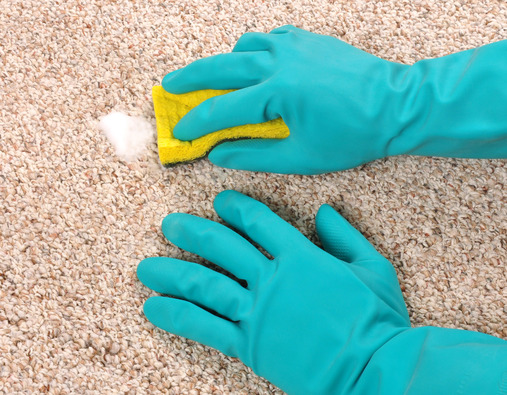 Thinking of buying new carpet for you home? Before you make your final decision, consider how you will care for it first. You can save yourself a lot of hassle just by purchasing the style of carpet that works best for the type of traffic you expect in the room.
Be sure to take into account how your family uses a room, how much daily use it will receive, who uses the room most frequently, and what type of food and drink will be consumed there. Being aware of your needs can help you make final selection in style, pile type, even color.
No matter what style you choose, walk-off mats at entrances can help prevent dirt and debris from the outside being tracked and left on your carpets. Be sure to check the manufacturer's guide first to see which mats are recommended for use with your carpet.
Also make sure you buy stain resistant carpet to prevent many stains from sticking. If at all possible, clean up spills immediately, especially liquid spills that can soak into carpet and padding.
For most carpet styles, you can use a standard vacuum with a rotating brush or combination beater/brush bar which moves the carpet's piles and loosens dirt for removal. However, if you are getting a specialty carpet, talk with your carpet consultant first to determine the best cleaning methods. For some thick loop-pile carpets, particularly wool and wool blends, they may be sensitive to rubbing or brushing, and become fuzzy with too much traditional vacuuming. Shag carpets can also be long enough to wrap around beater bars or become damaged by brushes. For these types of carpets, suction only vacuums may be a better solution.
When your carpet is dirty with general wear, its time to call in a carpet cleaning professional. Not all cleaning companies are equal; talk with your carpet specialist to find out the type of cleaning best for your carpets, and to determine what warranty information recommends.
Professional carpet cleaning comes in many varieties.
Hot water extraction (steam cleaning) is one of the most recommended by carpet manufacturers, as many other types of carpet cleaning methods may not thoroughly clean your carpets. Hot water extraction consists of hot detergent solution sprayed into the carpet at high pressure, followed by immediate extraction to bring up the dirt particles.
Other methods of professional carpet cleaning include shampoos, foams, bonnet cleaning and absorbent dry compound.
Whatever methods you choose, with just a little TLC, your carpets should provide years of satisfaction just by taking the time to learn a few maintenance tips now.
For all of your Denver Hardwood Flooring needs visit our site today.