Ahhh, wouldn't it be great to give your room a fresh, updated look?
Now that you've made the decision to move forward, should you tackle the project yourself, or turn it over to the hands of a professional?
More and more homeowners are turning to DIY installation projects when it comes to flooring. And the biggest reason behind this favoring of the DIY world is to save money.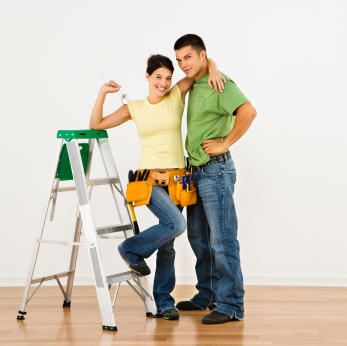 It is pretty simple – when you do something on your own, you do not have to pay someone else to do it. You can save a lot of money in installation costs by installing your own flooring.
However, you have to weigh the pros and cons of DIY floor installation against hiring a professional.
If you decide to install your own flooring, you will still have to pay for the materials you need. You will also have to pay for the equipment needed to handle the installation. You will have to provide your own supplies and if anything breaks, it falls on you to replace it.
With a professional, you only have to pay for the materials and installation labor. You do not have to pay for equipment rentals, and you do not have to replace broken tools – that falls on the shoulders of the contractor. You may have to pay additional costs for moving furniture or cleanup, but you can always opt to take care of that on your own to save some money.
Another important thing to consider before you install flooring on your own is your skill level. Are you equipped with the knowledge to correctly install the flooring? Some types of flooring are best left to the pros, such as hardwood and stone or ceramic tiles. Even carpeting normally requires a professional installation if you want your carpeting to be tight and without noticeable seam lines.
Determine your personal skill level and decide if you can handle the job ahead of you – or if it would be best to let a contractor take care of the installation to ensure a polished, professional result.
For all of your Denver Hardwood Flooring needs visit our site today.