It's a job you probably dread and put off as long as possible. Let's face it; the tile and grout in your home can be tough to clean.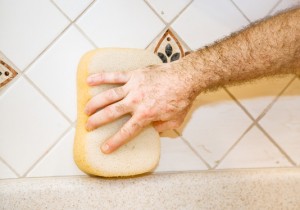 However, it must be done from time to time – so when the time comes, make the chore a little bit easier by choosing the right equipment for the job. Over the counter cleaners may be what you use for weekly cleaning. But for deep cleaning, a steam cleaning machine may be the right tool for the job. Here are some tips for choosing the right machine for your situation.
For tile and grout cleaning, the output temperature should be as high as possible. For today's efficient steam cleaning machines, they can reach up to 386 degrees. The higher the heat, the easier it is to remove all the dirt and impurities present on the tile joints and grooves. The higher temperature also brings one other advantage: superheated water turns to vapor, meaning less mess to clean after the chore is complete.
Consider equipment with an attached vacuum. Instead of having to perform two jobs – the steam cleaning of the grime to break it up and the removal of the grime (with a rag or vacuum) – you can use equipment with an attached vacuum. The suction power will eliminate the dirt and grime as you clean the tile and grout.
Consider equipment with an automatic refilling feature. When your equipment runs out of steam, you will not have to stop the cleaning process for a refill. With automatic refilling, your equipment will have additional water tanks. You will be surprised at the time you save by not having to frequently refill your water tank.
Steam cleaning machines for tile and grout feature antimicrobial qualities. This ensures that the microorganisms that can lead to illness are eliminated. You want your tile to be clean and sanitary, especially if you have young children. With antimicrobial features, you will know that your tile and grout is as clean as possible.
For all of your Denver Hardwood Flooring needs visit our site today.