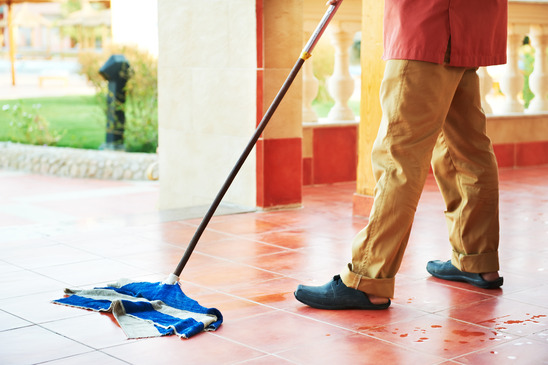 Ceramic tile is a durable and beautiful addition to any home. It is available in a large assortment of colors and styles – as a homeowner, you are sure to find at least one style/color you adore.
However, just as with any other type of flooring, ceramic tile must be taken care of to prevent discoloration. Ceramic tile can be stained, and these stains can make your gorgeous floor look less than appealing. There is a way to remove deep stains from a ceramic tile floor – with the use of citric acid and other ingredients.
To get started on removing deep stains from a ceramic floor tile, begin with about 1 ½ gallons of hot water.
Add 1 cup of citric acid to the hot water.
Pour the mixture on the area of the floor that is stained – or over the entire floor for a thorough cleaning.
Allow the floor to soak for about five to ten minutes – this gives the acid time to eat away at the stains on the tile.
Use a scouring pad to scrub the floor – this is where your "elbow grease" comes in handy.
After scrubbing, refill your bucket with clean water. Use a wet mop to soak up the rest of the citric acid mixture from your floor. Rinse the mop and repeat the process until all of the mixture is removed from the ceramic tile floor.
For rust stains, use a commercial rust-removing powder mixed with water. Cover the rust stains with the mixture and soak for 24 hours. Then, use a scouring pad to scrub the stains.
For oil stains, cover the stains with scouring powder. Wait for 30 minutes, brush the powder away with a paper towel, and cover the stains again with the powder. Let the powder set for 24 hours, then scrub with hot water and detergent.
For organic stains (such as coffee and tea stains), use a combination of hydrogen peroxide with a few drops of ammonia. Cover the stains with the mixture and let it soak for a few hours – then scrub.
Make sure you rinse your ceramic tile floor with water after applying any of the mixtures. Also check with your manufacturer warranty information. They may provide useful information you can use for all of your cleaning needs.
For all of your Denver Hardwood Flooring needs visit our site today.