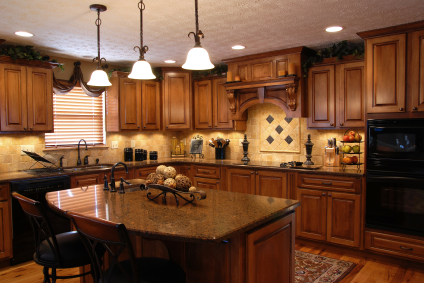 Hardwood floors have long been a favorite flooring type for homeowners. Hardwood offers incredible beauty and an elegant feeling that is hard to replicate with any other type of floor.
A decision that many homeowners struggle with, however, is whether hardwood floors are a good choice in the kitchen. As with any new addition to your home, there are pros and cons to this decision.
Pros
There are the obvious benefits of wood flooring, including its incredible beauty and immense value that it can add to your home. Potential home buyers are more likely to seriously consider a home that has wood floors rather than one that does not. In addition, these floors are easy to care for if they are properly maintained, including sweeping on a daily basis and immediately wiping up spills.
Cons
The largest disadvantage of installing wood flooring in your kitchen is its lack of durability. If you have pets, children or simply have a lot of traffic coming through your kitchen, you might find it difficult to keep up the beauty of your floor. They scratch and dent easily, making it difficult to keep them beautiful in a room that gets so much action. In addition, any type of excessive water can cause the floor to warp, leading to further expenses for repair or in extreme cases, replacement.
The decision whether to choose hardwood floors in your kitchen is based on personal preference. Some people see the frequent cleaning that this flooring type requires as a con, while others do not have a problem with it. If you are a family that is very careful on your floor and does not drag, drop or spill a lot, you will not find wood floors to be difficult. On the other hand, if you have small children or simply use your kitchen a lot, you might find another flooring type to be more beneficial.
For all of your Denver Hardwood Flooring needs visit our site today.