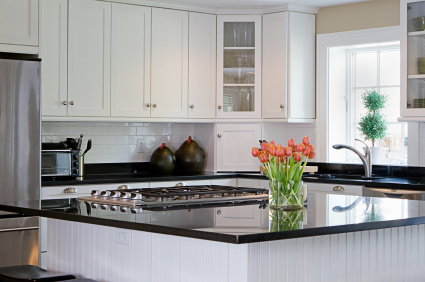 Your kitchen is the one room in your home that you and your family probably spend the most time. This is what makes the kitchen the most remodeled room in homes around the country.
One of the latest trends in kitchen remodeling is the addition of kitchen wall tile. The installation of wall tile can be simply for decorative uses or it can be used for functional uses, such as a backsplash.
The most common material for a wall tile backsplash is ceramic tile. Because ceramic is waterproof, it makes perfect sense to install it behind your stove or sink to catch splashes and spills. The benefit of using ceramic tiles as your backsplash is the large number of colors and styles that it is available in. You can have your backsplash tailor-made to fit the décor and style of your kitchen.
If you wish to add incredible flair to your kitchen, ceramic wall tile is the perfect way to do it. You can position your tiles in any design to give your kitchen the exact look you desire. All kitchens can use the benefits of ceramic wall tiles as a decorative accessory including classic, contemporary and even kitchens with a Spanish flair. If you want to go beyond ceramic tiles, there are also glass and metal tiles to help you create a mosaic look in your kitchen.
It is important to remember that if you are looking for kitchen wall tile that is durable, you will want to stick with ceramic tile since it is waterproof and heatproof. However, if your wall tile is more of a decorative piece in your kitchen, the sky is the limit for your design.
For all of your Denver Hardwood Flooring needs visit our site today.