Whether you are looking at flooring for a brand new home, or are finally remodeling and putting in the floors of your dreams, chances are hardwoods have made the top of your list. And with good reason. Nothing says style, class and elegance like hardwood flooring.
If you are new to hardwoods, there may be a few things that you didn't know about this popular flooring choice. While they do make a great choice for just about every room in the home, there are a few tips that will keep them looking great longer, and keep you happy with your flooring choice for years.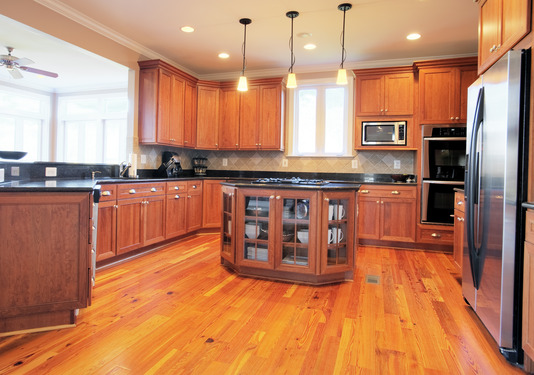 Janka hardness test
Did you know every hardwood available as a flooring has a unique ranking? The Janka hardness test measures the resistance of a sample of wood to denting and wear. It measures the force required to embed an 11.28mm steel ball into wood into half the ball's diameter. The higher the ranking, the more suitable it is as a flooring choice. When looking at wood choices, make sure you ask about the Janka hardness test and where your options fall in ranking.
High heel shoes can damage your hardwood flooring
The concept of having hardwood flooring is a little deceiving because hardwoods can be damaged. High heels, spikes, sports shoes – all can be damaging to your wood flooring. Because pressure points strike the floor with more force per inch than an elephant's foot, you'll quickly see the damage if you walk around.
Different flooring companies work different ways
Some flooring companies look to make quick sales and install your flooring as fast as possible to move onto the next customer. We never take that approach. All of our hardwood flooring is installed to ensure you long lasting results. No matter what type of hardwoods you choose, we finish installation with glue and nails to insure you'll never find movement or gaping in the months and years to come.
Colorado is dry – take care of your hardwoods
You probably feel it by this time of the year. Colorado is a very dry climate. Sure we get the occasional snow or rain storm, but after the heater runs nonstop through the coldest of days, you're bound to feel the tightness and dryness in your own skin. The same applies to your floors – they feel the dryness too. Hardwoods are meant to live with moisture; so take care of your flooring and install a humidifier. Both your floors and your skin will thank you.
Take your time decorating
The hardwoods are in. The new sofa is purchased. One last piece is a new rug to add a splash of color to the room. Area rugs are a great additive for protection. But don't add it to your room too fast. Give your hardwood flooring at least two to three weeks to cure before covering it up with a rug. It will allow the glue to thoroughly dry and the floors to settle before adjusting to the new covering.
For all of your Denver Hardwood Flooring needs visit our site today.