Hardwood floors can help make your home look and feel magnificent. There are many different styles of hardwood floors, giving you the ability to create the perfect look. Yet since hardwood floors are so popular, you may be worried that your floors will look just like your neighbor's floors. You can stop this worry by adding something special to your hardwood floors.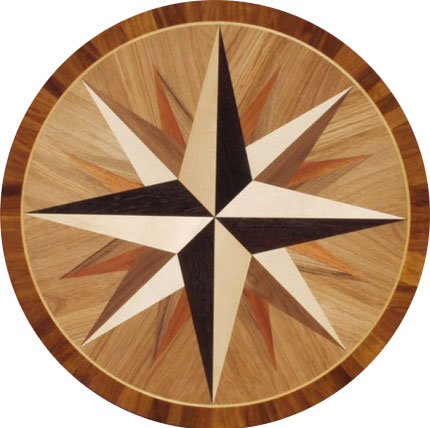 There are several ways you can create a unique look with your hardwood floors – making them "pop" with a style that is all you.
Add a medallion to your flooring to give it an original look. Medallions are created to add depth and design to any room. They can be many different patterns, custom or preassembled. And as a good rule of thumb, they should be no more than one third the width of the room. There are many styles of medallions available and they can be added to most any type of hardwood flooring. Medallions look great in an entryway or foyer – a place where anyone who enters your home can see them. You can even go the extra mile and have a custom medallion designed, such as one of your family crest.

Add borders to your hardwood floors to create a visual contrast. Borders are often different coloring, different texture, different patterns, or even different types of wood, designed to separate one room from the next.
Have your hardwood floors hand-distressed. This is a labor-intensive process that is well worth the additional money. The process gives your floor a worn and distressed look without making it look old and in need of replacement. No two hand-distressed floors are alike, so you can be assured that your flooring will be one of a kind.
Consider mixing and matching different flooring materials with your hardwood floors. The different textures and colors of mixed flooring will provide your home with a completely original look that will have all your friends and neighbors green with envy.
For all of your Denver Hardwood Flooring needs visit our site today.